Updated July 2011

STUDENT OF THE MONTH & POWER OF THE PAWS
The Student of the Month and Power of the Paws programs were developed to recognize students who are role models for their peers. Students who receive either of these distinctions do so for their academic effort, positive attitude, contributions to the school community as well as other criteria. Students of the Month and Power of the PAWS awards will be bestowed in September through February of the School Year.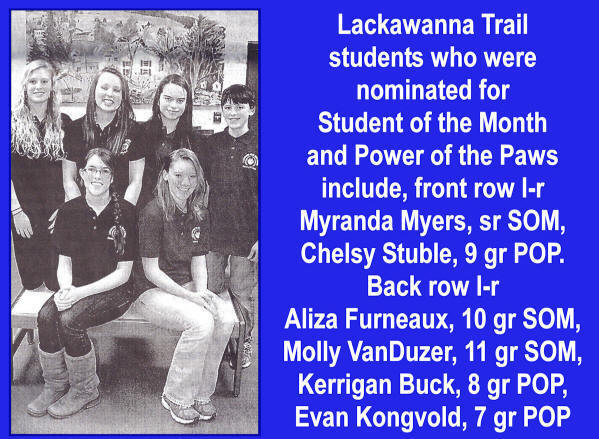 Full article may be seen on the July 4, 2011 "The Times-Tribune" "School Notes" page
"GOOD GUY" PROGRAM
Each year the Lackawanna Trail Administration hosts the annual Good Guys' Breakfast. The purpose of this program is to recognize students who are good school citizens. These students are polite and respectful, work to the best of their ability, do what is asked of them, and volunteer to do more. In general, they make coming to school everyday worthwhile. Good guys are nominated by administrators, faculty and staff.
The 2010-2011 Good Guys' Breakfast was scheduled for March